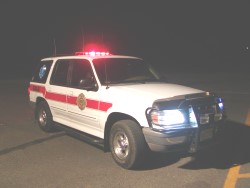 The Lafayette Township Emergency Medical Services (EMS) Squad is an all volunteer organization whose members are dedicated to preserving the health and lives of the people of Lafayette.
The Squad was first formed in September of 2001. It came about because the members of the Lafayette Fire Department saw a need to care for sick and injured residents during the time between their making a call to 911 and when an ambulance could arrive. Since there were no ambulances based in town, we relied on Squads from surrounding towns to transport people to the area hospitals. Prior to the formation of the Lafayette EMS Squad, no assistance was available to people in need during those first minutes while an ambulance was in transit from another town.
With the advent of Lafayette's EMS Squad, highly trained people were now available within Lafayette itself to assist people while awaiting the ambulance. Since our EMS Squad has been operating, the time from placing a call to 911 until help arrives has averaged four to six minutes. This response time is enviable even by big city standards.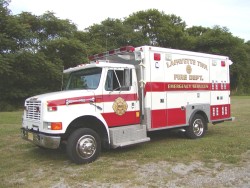 In July of 2005, Lafayette EMS took another huge step forward. A Lafayette businessman, Jim Zylstra of Fredon Welding, donated an ambulance/rescue truck to the EMS Squad. This incredibly generous donation allowed the Squad to take over the job of transporting sick and injured people directly to the hospital. In this way, the Squad can not only reduce the time until help arrives, we can also reduce the time until the person is receiving the definitive hospital care that they need.
Members of the EMS Squad and Fire Department have also earned certificates in Advanced Extrication in order to use hydraulic rescue tools, commonly called the "Jaws of Life". These tools, also a donation from Mr. Zylstra, allow us to cut people out of wrecked cars so that their injuries can be treated quickly.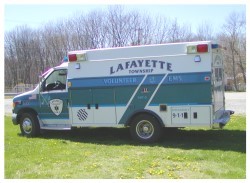 In 2006 we purchased an additional Ambulance from the town of Westfield. This ambulance became known as 859 and serves as our primary ambulance. It's smaller in size than the rescue ambulance but is well suited to our needs and is more fuel efficient. 858, as the rescue ambulance is known is still in regular use, when we need more than one ambulance, need it's portable lights and/or generator and to all motor vehicle accidents.
2007 was another year of big change for Lafayette EMS. In mid 2007 we moved into our own Squad Building on Morris Farm Road. Just down the road from Lafayette Town Hall. The squad would like to thank those that made the new building possible.
Take a Virtual Tour of our new building
More big news in 2008. Due to a very generous donation by the Schering Plough Corporation, and donations from the residents of Lafayette we were able to purchase a brand new ambulance.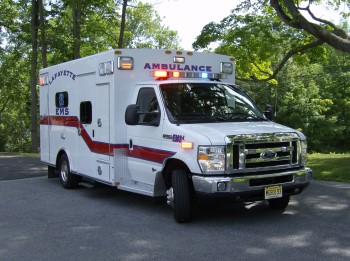 Take a Virtual Tour of our Ambulances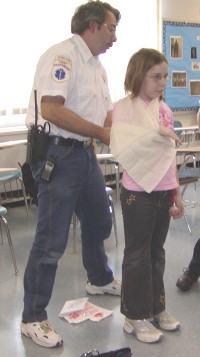 In addition to treating those in need, the EMS Squad is heavily involved in teaching EMS skills. Every year, Squad members teach Lafayette School students in all grades about EMS. CPR instruction is offered to Boy and Girl Scout troops, school teachers and coaches, local organizations, businesses and any interested adults. For more information about our classes click HERE.